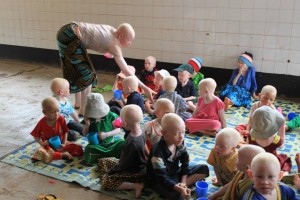 By Bob Allen
The most unsettling experience during our mission trip was our brief visit to the albino compound outside of  Shinyanga known as Buhangija.   Thoughts of these children have continued to haunt me for the last month.    There are four compounds in Tanzania established to protect albino children from death or serious injury from native witchdoctors  and traditional believers.  Many  still  believe that body parts of albinos may bring them good luck.
Tanzania has one of the highest incidents of albinism in the world. Albinos  live in fear for their lives,over 72 albinos have been killed since 2000.  Often these albino children are abandoned at the  gate of the compound by parents wanting to avoid the threat of injury or death in their home because of the presence of their albino children.
The albino compound we visited was established by a Catholic Church to serve deaf and blind children.  The government took over this compound of 40 children to find a way to protect the albino children and added  240 albino children to a place intended to shelter 40.   Those  administering the  compound were  overwhelmed by  needs and shortage of funding. When they heard we were coming, they  specifically asked us to bring food for them.
We became aware of these children by Deaconess Sandra Rhein  and missionaries Eric and Linda  Funke serving  in Tanzania,  who had visited the compound.   We wanted to arrange a short stop there to bring hats and  other small items but upon request stopped to pick up rice, beans, flour, and sugar to help meet their most basic needs.  We also brought  them water purification systems.
What continues to trouble me is what can we do about these children. It is not enough that we occasionally bring them food, hats or sun screen. They need so much more than our pity, they need mercy from us.
We can periodically visit and take them nice things, toys, candy, hats , and other things. They do need visits and encouragement.  But I think that visiting them and giving them food and  things in the long run will not make a difference in their lives, it only helps with their immediate needs. They learn to be beggars and do not have any sense of security since help is random.  I believe if they stay in the current system administered by the government,  no change will be made in their lives.  It will not get better.  They need an organizational change.  Some group needs to take over the administration of these children. In the next few years they will continue to  need the security of a compound. Due to the lack of administration and oversight, I am not sure they are receiving the following things.
Supervision within the compound to separate by age and gender to  protect from bullying and abuse.
Regular medical treatment
Education and  skills training
Spiritual Guidance
Organizational oversight to manage any incoming funds
These children need more that our pity and handouts.  They need  our mercy.It is one thing to provide security behind the high walls of the compound, but once the children age out, they know they face death or dismemberment at the hands of those practicing or believing in witchcraft. They know they cannot depend upon law enforcement to protect them.
Bishop  Emmanuel Makala, Bishop South East of Lake Victoria Diocese (SELVD) has said
"In  order to check the rampant killings of old women and albinos in the lake zone of Tanzania, the community can only be liberated through preaching of the Gospel. We need to increase the effort of preaching the Gospel in the communities where the killings take place instead of putting emphasis on using the police to make arrests and taking alleged culprits to court only."
This is the reason that  the continuous training of evangelist, deacons, deaconess, pastors and advanced training of pastors is one of the top priorities we have to supporting the SELVD.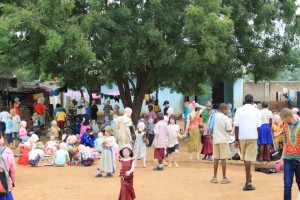 Pictures from Linda Funke