KS team visits albino compound just in time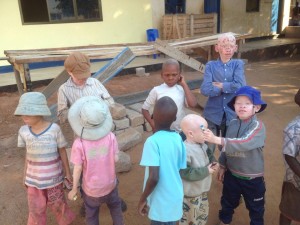 The mission team from KS is back in the states and we are starting to see some of their pictures and stories via Facebook.
They  purchased one month's worth of food for 208 alino orphans when they went to visit outside of Shinyanga.  The team reports they were down to their last two days of food.
As you recall, there is a high incident of albinism in Tanzania and due to superstition and the practice of witchcraft, they are in danger of being maimed or killed. They are often brought to this place for safety reasons and end up being raised there.
The caregivers are doing their best but the facility is crowded and poorly staffed without enough resources. The Church is trying to assist as best they can.
Pray for these children and the end to the practice of witchcraft.