Bush evangelism baptize seven including witch doctor
Joe Kuhlman, Tulsa, OK, June 7, 2018
Jessica Strong, a first time mission team member, Ibrahim (student pastor in Tanzania who acted as our interpreter), a local  evangelist, along with several local women and myself were part of a group out doing bush evangelism. We were on our way back to meet the other teams at  the car.  We had been out all morning evangelizing, but it was time to return for our lunch. We were on a trail that passed by a witch doctor's house.  You can tell their hut due to the charms outside the hut, on the roof  and in the yard area of the boma. Jessica wanted to go into the compound even though we would be late.
Just outside the hut of the witch doctor, the evangelist and Ibrahim noticed two men standing in a field near our path. They seemed to be having an intense discussion. The local  evangelist said he knew one of the men as his wife attended the local Lutheran church. He said the man was anti-Christian and did not want his wife to go to church.
The evangelist called the two men over to speak to us and after the introductions were made and some discussion, they agreed to hear the Gospel message. Several more men appeared and joined with them to listen. Through the working of the Holy Spirit seven men came to faith and were baptized, including the man who was described as anti-Christian. In fact, he was the first to be baptized.
While this sharing and baptizing was happening, the door opened on one of the mud huts and a man wearing a cross and a big smile came out. He was one of the seven who heard the message and was baptized. He was the witch doctor!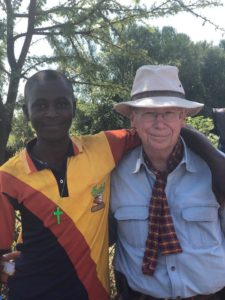 Wow! It is so good to follow the Holy Spirit leading and thank you to first time missionary Jessica who encouraged us to go into the compound regardless of the time.